Regular price
Sale price
$295.00
Unit price
per
Sale
Sold out
Camel, Sheep and Goat Qurbani and Sadaqah Jariyah
Every Muslim wishes to perform good deeds, especially when they can do it in the two Holy Cities, Makkah, and Madinah. A problem usually faced by people is fewer or no opportunities available for the best Muslim charity to donate. Haramain provides a solution to this problem. 
Haramain brings the opportunity to perform Zabiha in Makkah Al'Mukarramah from anywhere. A fully dedicated team of professionals works round the clock to ensure that every Qurbani is carried out professionally and correctly. 
This concept aims to bring people together, collect Qurbani Donations, and distribute healthy and hygienic animal food to the less fortunate residents of the holy city. Pay Sadaqah online and let Haramain Team fulfill the obligation. 
The Holy Prophet (PBUH) led an exemplary life for the Muslim Ummah as he gave Muslims the idea of charity in Islam and Give Sadaqah. Thus, we ensure a smooth collection of Muslim donations to charity in Makkah using this platform. 
We provide facility of four Qurbani Services, namely, Eid-ul-Adha Zabiha, Sadaqah Zabiha, Hajj Zabiha, and Dam Zabiha. Throughout the year, Muslims from all the countries in the world perform charity by making Qurbani Donations online. Other than this, we open bookings for Eid-ul-Adha Qurbani 45 days before to make it easier for all the Muslims to perform Qurbani in Makkah for the festival of Eid to appease Allah (SWT). 
Pilgrims who come to Makkah Al'Mukarramah for Hajj must perform Hajj Qurbani to complete their obligation. To make Hajj obligations convenient for the Muslim Pilgrims, Haramain introduced the service for Hajj Zabiha in 2017 to ensure a smooth Hajj process for Hajis. 
Haramain received many requests from Muslims worldwide to provide service for Dam Qurbani. This Qurbani is obligatory on a Muslim when during Umrah or Hajj, certain practices are done that are forbidden. Few are listed below:
Shaving or trimming your hair.
Use of foul language or abuse.
Indulging in marital relations in Ihram.
Usage of Scent, perfume, or oil.
Covering your face.
Wearing sewn cloth (exemption for women).
Hunting or Killing an animal without a threat.
For all the above-listed mistakes done while wearing Ihram, it is compulsory to pay Dam. Haramain, like other Zabihas also performs Dam Zabiha in Makkah Al'Mukarramah.  
For all the Qurbanis done in Makkah, the meat of the sacrificed animals, goats, and camels is distributed to the less fortunate people living in the sacred city and multiple charitable organizations.  
Haramain Team dedicatedly performs this task to ensure that the meat is not being resold to people and consumed by the needy. This practice is done to ensure the safety of Muslim Sadaqah and direct transfer of the charity to underprivileged people. 
View full details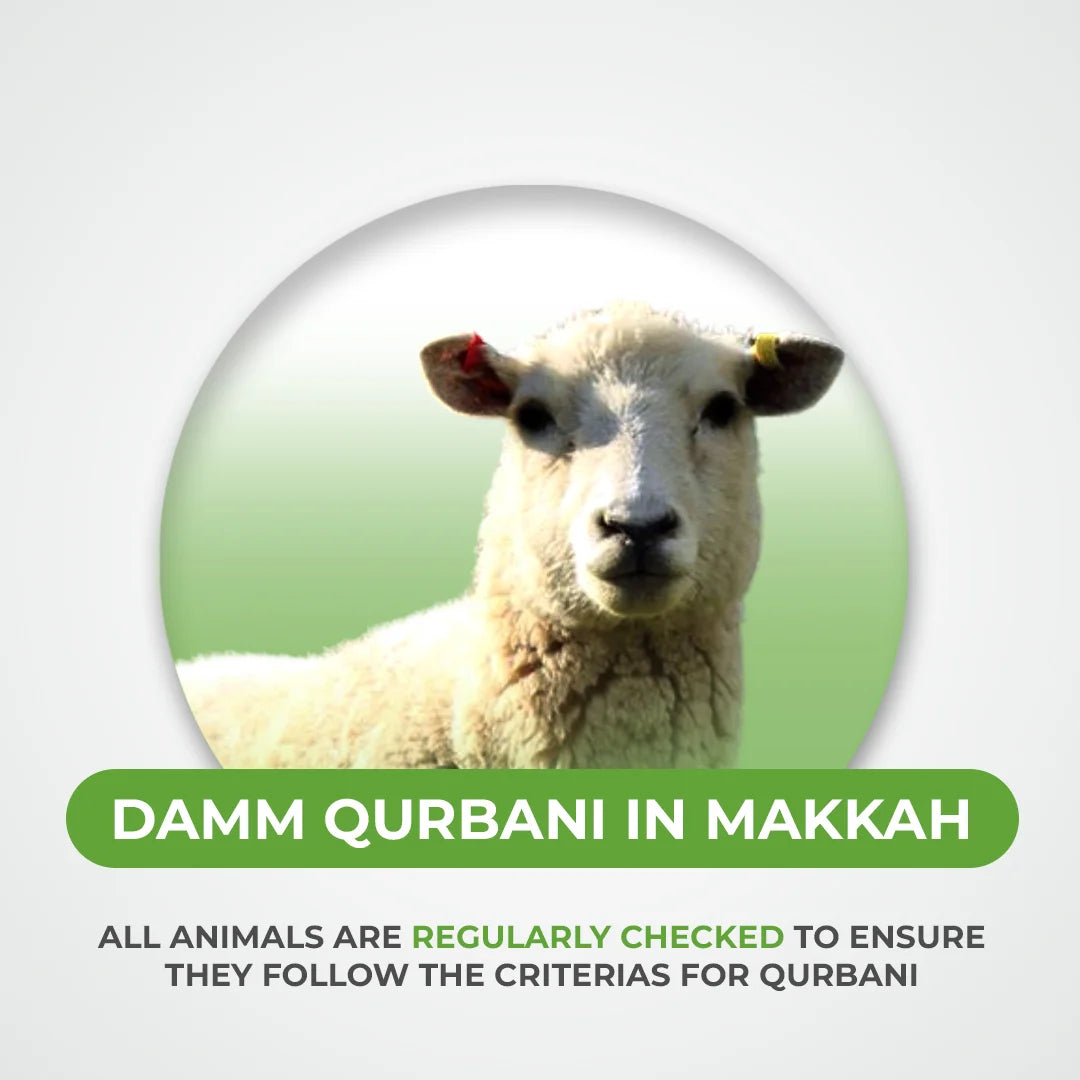 sheep sadka delay
The sadka of sheep was delayed by 2 weeks after payment !
Organized and convenient
Thanks for helping us and doing great work
Excellent
Enjoyed the pictures, looks very clean and performed promptly
Goat, Sheep and Camel Qurbani / Sadaqah Jariyah
FAQ
What is Qurbani Haramain?

Qurbani Haramain is a platform that allows people to perform Sadaqah Zabiha online, from anywhere in the globe, in the Holy city of Makkah. Our team distributes the meat among those in need in the city of Makkah.
How does Qurbani Haramain work?

Qurbani Haramain provides a simple and secure online platform that allows people to perform Sadaqah Zabiha from anywhere in the world. After the Qurbani is performed, our team oversees the entire distribution process.
What is Sadaqah Zabiha?

Sadaqah Zabiha refers to the act of sacrificing an animal for the sake of Allah.Particularly during the Hajj season, it is a highly encouraged form of Sadaqah in Islam.
Zakat vs Sadaqah: What is the Difference?

In Islam, the acts of charity are Zakat and Sadaqah, which have different purposes and meanings.

Every able Muslim who meets certain conditions is obligated to pay Zakat, which is a form of charity calculated as 2.5% of their wealth and distributed to the poor and needy. Sadaqah can be given to any individual or cause and is not subject to any specific conditions.